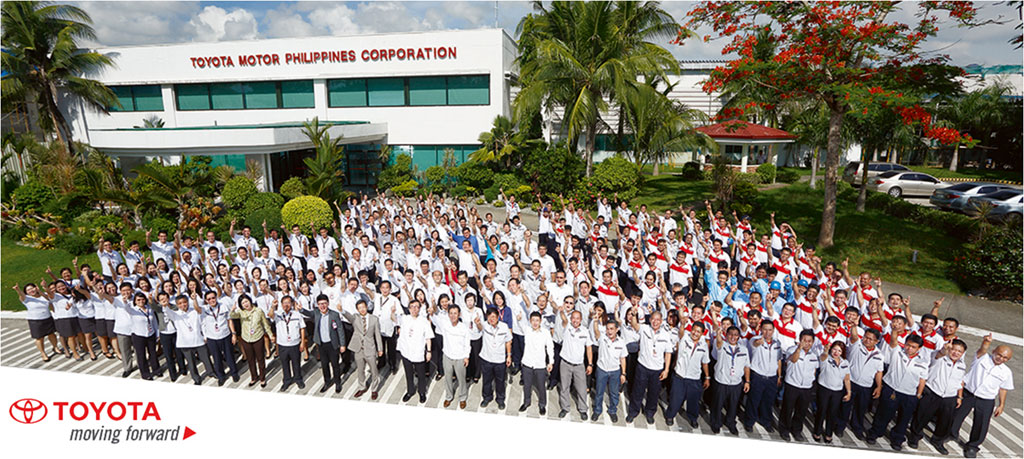 In the Philippines, Toyota remains to be the leader in the automotive industry – a testament of our customers' trust on the brand. Because of this, we make it our mission to make Toyota's business operations in the country address the needs of our customers and become a positive influence to society. In our desire to better serve our customers' needs for mobility, TMP offers the widest vehicle line-up of 21* Toyota models and 12* Lexus models. These models are available in our sales distribution and service network, which is composed of 44* outlets nationwide, including Lexus Manila.
OUR CORPORATE INFORMATION
---
TMP was incorporated on August 3, 1988. It is owned by the following business entities:
­GT Capital Holdings, Inc. (51%)
Toyota Motor Corporation (34%)
Mitsui & Company Limited (15%)
OUR OFFICES
---
Santa Rosa City, Laguna TMP's manufacturing plant and head office are located inside the 82-hectare Toyota Special Economic Zone (TSEZ) in Santa Rosa City, Laguna, which is also home to a number of investors performing strategic roles in the manufacture and export of automotive products to ASEAN, Japan and other parts of the world. TMP's manufacturing plant proudly produces the Innova and Vios. It is capable of producing 35,433 units per year on two-shift production operations. Makati City The company also has Marketing offices at the 28th and 31st floors in GT Tower International in Makati City.
OUR PRODUCT LINE-UP
---
Toyota continuously endeavors to offer vehicles that cater to the different needs of our customers. For TMP, this means introducing new and exciting vehicles to serve what the market demands. Currently, we offer this vehicle line-up for Toyota and Lexus.
TOYOTA

Passenger Cars:

---

86
Camry
Corolla Altis
LC Prado
Prius
Prius c
Vios
Wigo
Yaris

Commercial Vehicles:

---

Avanza
Alphard
Coaster
FJ Cruiser
Fortuner
Hiace
Hilux
HSPU
Innova
LC200
Previa
Rav4
LEXUS

Passenger Cars:

---

CT 200H
ES 350
GS 350
GS 450H
IS 350
IS-C
LS 200H
LS 460

Commercial Vehicles:

---

GX 460
LX 570
RX 350
RX 450H
OUR CONTRIBUTION TO SOCIETY
---
"We derive our resources from the society. So, we should accordingly give back to society." – George S.K. Ty, TMP Chairman Since 1988, TMP has been an advocate of automotive manufacturing as a catalyst for national development. Through its local manufacturing operations, TMP has provided employment for thousands of Filipinos and sustained many small and medium-scale enterprises that significantly contribute to the economy. TMP has also contributed to the nation's progress by serving society through its many corporate social responsibility (CSR) initiatives covering health, education, environment, and community service.
FLAGSHIP CSR PROJECTS
---
GT-Toyota Asian Cultural Center (GT-TACC)

---

The GT-TACC is a one-hectare complex in UP Diliman which houses the GT-Toyota Hall of Wisdom and the GT-Toyota Asian Center Auditorium. Toyota's Php100 Million donation has become a venue for various workshops and fora related to the Asia Pacific region's changing socio-political landscape.

Toyota Motor Philippines School of Technology (TMP Tech)

---

Located at the Toyota Special Economic Zone in Santa Rosa City, Laguna, TMP Techis envisioned to produce globally-competent, highly-skilled automotive technicians for the Toyota Family both in the Philippines and abroad.

Toyota-City of Santa Rosa-GK Village Project

---

Toyota's Php22-million donation is a landmark project with the local government of Santa Rosa and Gawad Kalinga. A total of 160 housing units were constructed for deserving beneficiaries from Barangays Pulong Sta. Cruz and Malitlit of the City of Santa Rosa. A multi-purpose hall will also be constructed in the 8,000 sq. m. village.

Toyota Adopt-a-Forest Project

---

The project includes the reforestation of ten (10) hectares inside the Makiling Botanic Gardens (MBG), creation of a 3-hectare Toyota Palmetum Garden, construction of a nursery and propagation of palm tree seedlings, and establishment of a Toyota Environment Education Theater.
TOYOTA MOTOR PHILIPPINES FOUNDATION, INC. (TMPF)
---
To carry out its various CSR initiatives, TMP established in 1990 the Toyota Motor Philippines Foundation, Inc. (TMPF), which serves as the social and humanitarian arm of TMP, with programs categorized under four pillars:
Pillar
Programs

Education

1.1 Automotive Education Program

Scholarships, Training equipment donations, Instructor's Training

1.2 Adopt-a-school Program (Pulong Sta. Cruz Elementary School)

1.3 Professorial Chair Grant

University of the Philippines Diliman, Mapua Institute of Technology

Health

2.1 Medical and Dental Outreach Program
2.2 Donations of equipment to hospitals; donation of medicines

Environment

3.1 Development of the 11-hectare Toyota Forest inside TSEZ
3.2 Maintenance of a Tree Nursery inside the Toyota Forest
3.3 Participation in Coastal / River Clean-up
3.4 Seedling donation and participation in tree-planting activities

Community Service

4.1 Calamity Assistance and Relief Operations
---